During my conversation with the cab driver on my way back from Ranikhet, I asked him curiously,
'Isn't the place and the hills around greener than usual?'
'Yesterday, an old gentleman travelling with me had the same query,' he replied, agreeing at the same time.
Now, I've been to the mountains in all seasons. Have relished the hills come alive with fresh colours at the onslaught of spring in Kausani, the greens of the monsoon at Valley of Flowers and the various shades of yellow, orange and brown at Deorital. Watch them turn white at Khaliya Top was altogether another elevating experience.
But the valley had turned green now. Greener than anything I had ever seen before. I was surprised at the hues of green, which was surprising.
CHAUBATIA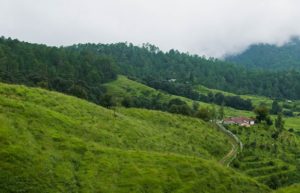 The prime reason Ranikhet had been on my mind for a few years was apples. 'Yes, years'. Images of apple laden trees ran through my imagination. For some reason or the other, I couldn't make it in July or August which, as I had read, was the best time to witness fruits on trees. And though I handpicked them fresh from the trees in Manali, watching gardens bloom with fruit was what I wished for.
Though a little late(end of August), I finally made it to Chaubatia. And to my dismay, there weren't any. None whatsoever. So much for the longing. So much for the reckoning.
It was a quiet morning. The orchard was covered in mist. My guide left after showing me around for a nominal fee. Trees of apple, peach, plum and apricot filled the valley. All fruitless though. A cool breeze blew all my yearnings. Everything seemed perfect.
To amuse myself, I finally bought and did have an apple.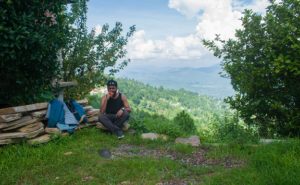 BHALU DAM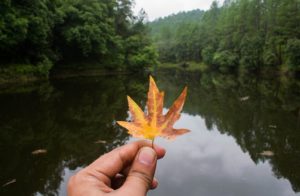 Chaubatia is known for its botanical garden and fruit orchard. A further 3 km walk leads you to an artificial yet beautiful lake. And regardless of what guides suggest, one can definitely undertake this hike alone with a little direction.
The rustle of leaves and the chirping around made me pause and turn back time and again. Only to find nobody throughout except when I reached a hut to find a couple of men. In fact, they lived there and their job was to extract tarpin oil from the trees which filled the area. After a little conversation, I continued to the dam where I finally lay down.
KUMAON REGIMENT CENTRE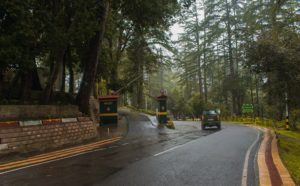 On a rainy morning, I started from the main market towards Chaubatia, which is a 10km walk on a beautiful marked road through the KRC; one of the four cantonment areas in Uttrakhand. The museum, established in the 1970s archives collection from wars fought by the regiment.
One comes across old and colourful bungalows dating back to British times on the Mall road. The area is clean and green and just charming for a morning walk. It also comprises of a military ground, park and lake along with several short trails to tread on.
Lansdowne: One of the four cantonment areas in Uttarakhand
UPPER GOLF COURSE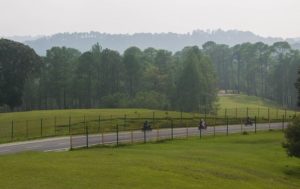 The golf course is one of the major tourist attractions near the place; without a lot of tourists though. In fact, there aren't many in the whole town. I hitchhiked my way up to the place which is what I mostly do.
Getting to converse with strangers and being greeted by amused faces is fun and the best form of learning about the place, culture and the place. A DSLR and a travel bag with related attire for sure makes it very easy.
I napped on the green grass until someone woke me up and asked for my whereabouts and pictures of them. I clicked some and spent a quiet evening there which doubtlessly was a fine one.
MAJKHALI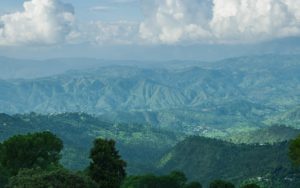 If Ranikhet was quiet and green, Majkhali was both multiplied. Had I known more about this place before, I would have definitely preferred more of my time(including nights) here. On a clear sunny day, there is a good chance that you get to see some of the snow-clad Himalayan peaks. There is though, surety of the vast and gorgeous hilly landscapes which extend to a great 180 degrees. With several home-stays, this is a good option for a getaway.
Exploring in and around Binsar – Uttarakhand
Tips from the traveller:
Don't forget to dip in the mesmerizing views of the Kumaon hills from Seven Stones – A few km from Chaubatia.
Hike up to Jhula Devi temple towards Chaubatia, which is the most you will be allowed to. The region onward is notorious for leopards and you can hitchhike thereon.
Hike to Bhalu dam without a guide.
If silence doesn't kill you, stay at Majkhali.
Take up short trails from the Mall road.
Best Time: Round the year. June till mid July for apples. Snow at Chubatia forms great visuals.
Duration: 2-3 days. I stayed for 3.
Stay: Plenty of options at the main market.
How to reach: Overnight bus to Haldwani and to Ranikhet thereon.
Explore more and let me know if you should share.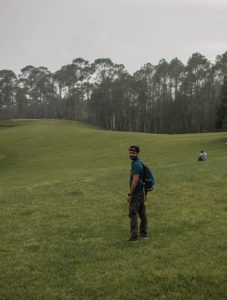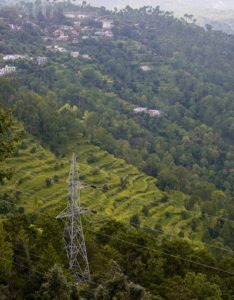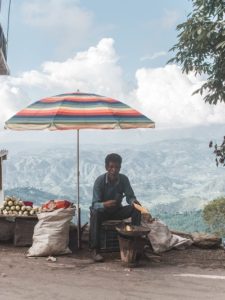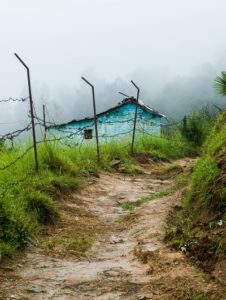 More from Uttarakhand: