Valley of flowers is not just a trek, it is a walk amongst the floating clouds; a surreal experience of a slice of heaven. With the valley blooming with a plethora of colours on one side, the snow clad mountains on the other and the alluring river dividing them, the scenery is picture perfect.
Add to that, the trek to Hemkund Sahib, the calm and secluded; highest gurudwara in the world and the scenic freshwater lake at 14,200ft., this is a must do trek for everybody.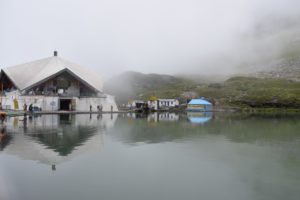 TO GOBINDGHAT
The journey starts from Gobindghat, which is a 15-16 hour drive from Delhi. I took a bus to Haridwar from Delhi at 10.30 pm and reached by 04.30 am. Within 15 minutes, I was already on the bus to Badrinath which would drop me at Gobindghat.
(If you want to trek in the higher altitude in India, there is no other way but to travel by bus. No flights or trains ply. Moreover, it is unlikely to find any A.C bus or taxi. One has to be patient during the journey. Take your pills if you have got any motion sickness. The weather most likely will be cool and between short naps, food and pee break you will not know when you have made it.)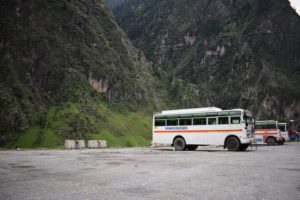 I reached Gobindghat at around 4 in the evening. There are only a handful of hotels here but there would be no problem finding a room unless it is an extended weekend. The prices are low and the food is more than decent considering the altitude.
Checked in, refreshed, took some rest and went for a walk in the town. It was gradually swarming up with trekking groups and pilgrims.  The evening was spent talking to the locals and enjoying the tea and food in the wonderful weather with raindrops falling seamlessly and endlessly till the next morning.
Also read: The perfect snow trek for beginners
TO GHANGARIA
The trek to Ghangaria from Gobinghat is 13 km but you can take a shared cab to Poolna which decreases the distance to 9 km. The trail is alongside the river and well defined. Dhabas can be found at regular intervals.
Sikhs pilgrims can be seen on the way making their holy journey to Hemkund Sahib.  A lot of them I met were either from Jalandhar or Amritsar. To my surprise, I also found a lot of trekking groups from Mumbai.
Started early in the morning and reached Ghangaria by noon. There were a lot of hotels/lodges and I rented a room for 3 days for my upcoming treks to both the valley and the gurudwara.
VALLEY OF FLOWERS
The way to the valley opens at 7 am and the last visitor is allowed till noon. We had to wait till 08.30am due to heavy rainfall which is an alarm for any landslide on the trail. The route though not tough is but slippery and treacherous.
The trek is picturesque and you get a glimpse of the valley and the glorious mountains. It is beautiful with waterfalls every few hundred metres and flowers blooming on both sides of the trail.
Once you reach the valley(about 3.5 km from Ghangaria), you will be in awe of what you see. Words fall short in praise of the wonder this place has to offer. Flooded with flowers – pink, green, white and even black, this place is a leaf out of the heavenly tree. Small streams flow throughout the valley, which stretches a further 7-8 kms.
Since it is a world heritage site, there are no food stalls. Lunch has to be packed and carried and the journey back also has to be made on the same day. 
Another monsoon trek that can be done solo: Bhrigu lake
HEMKUND SAHIB
After returning back from the valley, I got a leg massage done in the evening and boy, it was worth it. I knew the trek to Hemkund(6-7 km steep uphill) was never going to be easy, also considering that I had been trekking the past two days.
I started early again the next day. Although I got tired within the 1st km, the enthusiasm of the mini Punjab that was here, drove me. Sikhs mostly elderly and between 40-60 and even in their 70's were walking in their shoes and even slippers with bags and a stick in their hand. No fancy branded shoes or trekking gears. Nothing.
Faith really is something. Maybe everything.
Of faith, history and food: Amritsar
And then I met people of a third kind. 
Young, loud, cheerful and energetic people shouting slogans and speeding their way on the not so easy trail but seated comfortably on their ponies with their bags tied to the burden bearer. You guys for sure will conquer the world someday(on the ponies). 
In about 4 hours, I made it to the gurudwara. Warmed up with tea and khichdi at gurudwara langar. Though I do not like the idea of having khichdi until my teeth part from me one day, I was grateful enough to have whatever was on offer here. It is worth commending the efforts that go to make it possible at such a height.
The serene lake stood between the gurudwara and the mountains. It reflects the grand mountains and is a sight to behold.
Also read: Trekking solo to Chandrashila summit
To note:
It remains open for 4 months i.e June-September but I would advise to visit it in the months of July and August. That is when you would get to see most of the flowers.
Try NOT to visit the place on the Independence day extended weekend, both for the crowd and the surge pricing of rooms.  
Leave early for the valley and gurudwara to spend maximum time there and since you have to make your way back the same day before nightfall.
Raincoat/Poncho is a must since this is a monsoon trek. If not raining heavily, it would be drizzling most of the time.
Trek cautiously since the wet and rocky path becomes treacherous in the monsoon weather.
Get adequate rain care/protection for your rucksack and camera.
Get a leg massage done before(or after if you may) you make your trek to Hemkund Sahib. 
Solo Trekking: Obviously possible. I did it. You can too.
Travel safe. TRAVEL RAW!