While supper was being served at the freezing dining room in Phalut, a fellow trekker started glorifying Gorkhey. 'It is one of the most beautiful villages you will come across', he remarked, lifting our expectations. We were to be staying there the next day.
The tale of Samanden's discovery
Excited as we were, we bid goodbye to the majestic mountains the next morning and started our descent to Gorkhey which is a 3-4 hours hike. The trek through the forests is pure beauty and sometimes felt as if it was customized for people who love the greens. Absolutely incredible. The sun rays found their way occasionally through the trees of the dense forests making for a spectacular view.
Add to that the stunning silence, it was a treat for all of us.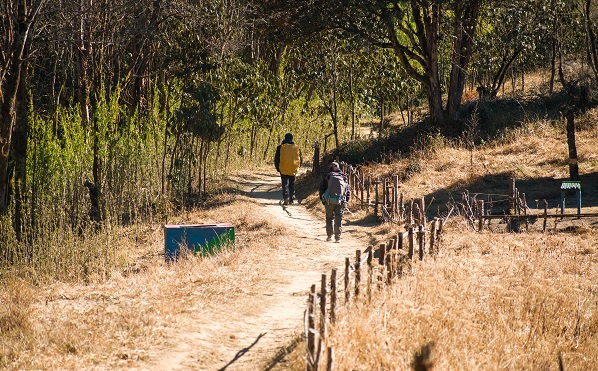 After hiking for a little more than 3 hours, I managed to get the first view of a settlement on the other side of the mountain. A river ran in between. I was in awe. A pristine village was in sight. Clean and organized, gleefully soaking in the rays of the midday sun.
Treks for beginners near Delhi!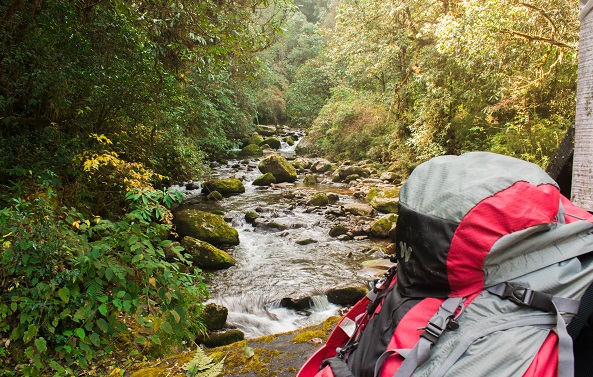 With my newfound energy, I scurried down and reached the small bridge that connected the other side and halted. The sound of freshwater soothed me. I waited for my friends for a quarter and left. They were nowhere to be seen. An upward hike of 20 minutes finally led me to my destination.
I felt exalted. The words uttered the previous night were true. A narrow single trail made way to this beautiful little hamlet. I threw my backpack in ecstasy and lay down on my first step into a garden filled with pots of colourful flowers. I embraced the warm rays and looked up at the display board.
'Welcome to Samanden', it read to my amusement and disbelief.
The Afterstory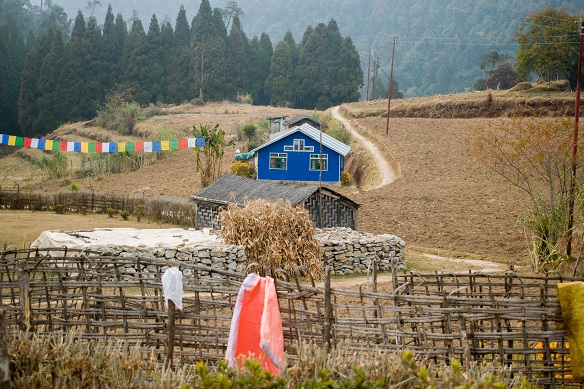 I was happy and confused. How did this happen? I was well on my way to Gorkhey. What about it? Whatever it was, I was grateful above anything else. Lost yet found.
I didn't find Gorkhey. Samanden had though found me.
I had a flurry of questions for the lady who owned the garden and the homestay resting on it's top. She was over a call. The network did exist here after all. Having happily been away from it, since the last few days, this was new. She brought to my notice that I had in fact surpassed Gorkhey. The main trail brought me here. I had supposedly missed a shortcut to lose Gorkhey and had but gained Samanden. It didn't matter. I was as happy as I had ever been.
The lady helped me connect with my friends, who had reached Gorkhey and were desperately searching for me. She made a couple of calls and they were found – oh the acquaintances in villages.
My friends were tired and had decided to stay put there itself and rightfully so. Two pigeons in the form of jolly 8-10-year-olds were sent from Gorkhey to receive and accompany/guide me to some Paradise lodge they had hired a room in. The adventurous kids were bent on completing their task. Having bought them their favourite chocolates and wafers, I though, flew them back.
I wasn't going anywhere. I had found my paradise.
It had to be that way, I believed.
Camping at sub-zero temperatures. The longest night of our lives!
The Village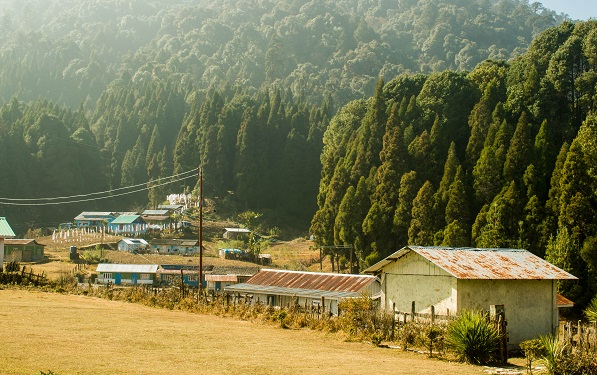 The place was as quiet as one could imagine. Every hut/cottage had a little garden. Little colourful flowers bloomed. Stretches of farmlands could be seen all around. The people; ever-smiling and helpful. Just as I was sipping in the beauty of this place, two trekkers set foot. I joined them.
Roop and Udit were seasoned trekkers from Kolkata. This was their 4th time here. And when someone of their kind shares their experiences, you just want to listen. I indulged myself in what was hours of discussions about the mutual love for mountains, passion for climbing and life.
Roop mentioned repeatedly 'This is a beautiful village. The perfect setting in a valley.' He stressed the word 'valley' and I couldn't agree more. Not that I needed any affirmation of the place's charm, but the fact that he echoed similar feelings made it even better.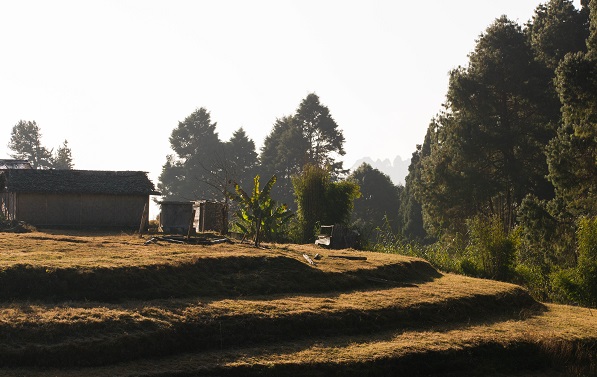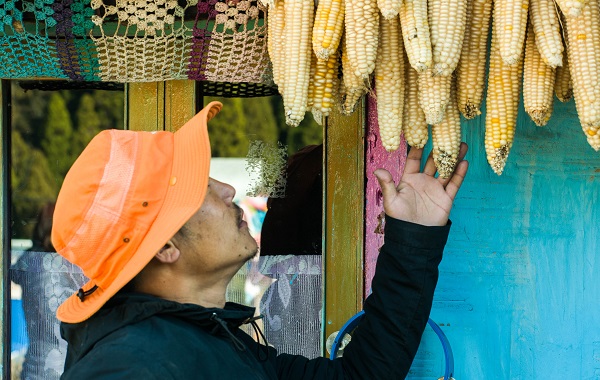 More on Samanden:
How to reach:
Via Phalut
For people trekking to Sandakhpu and Phalut, it is a downward hike of around 15kms from the latter. The guide(yes it is mandatory) will direct.
In isolation/shortest route
For folks not wanting to trek the long trail via Phalut, the shortest route can be as below. Yes, the villages can be visited in isolation, without any kind of permits too.
Hire a car and reach Rammam via Srikhola and start trek to Samanden which is around 8kms. The route is fairly simple and a guide isn't required by law or for an amateur.
Siliguri>>Darjeeling/Ghoom>>Rimbick>>Srikhola>>Rammam
Beyond Rimbick, finding a public transport may be difficult, not impossible though. You may have to hitchhike or hire a car.
Gorkhey would take another 30 minutes. At the bank of the river and a little more crowded, this is indeed worthy of one's time too, my friends say.
Best time:
Anytime except the monsoon months.
Stay:
Homestays should be easily available during non-peak months as long as it remains offbeat. For booking, you may as well connect with me on Facebook and Instagram. I could help you with the contact. Rammam is a good option to stay too.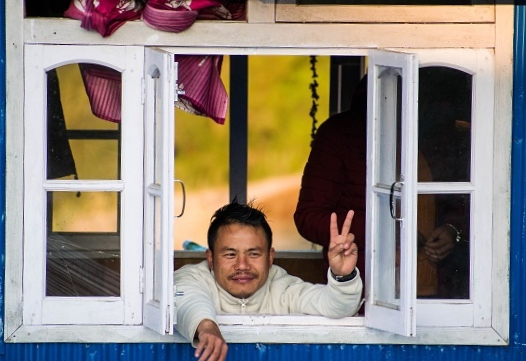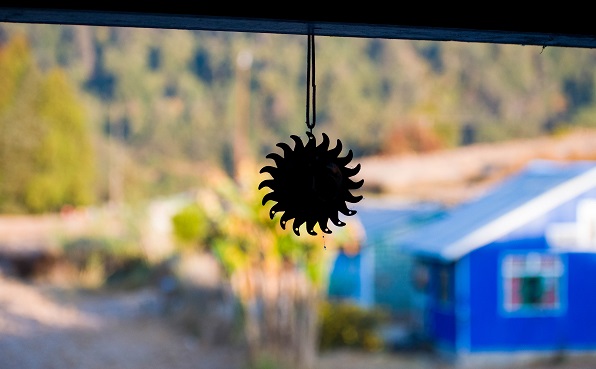 Explore. Venture out into the unknown.
Life is short. Stay raw!
Exploring lesser known places:
Kasar Devi – For folks who love silence!
Ranikhet – In search for apples!