After what we thought was a decent sleep of around 5-6 hours, we woke up to the rustle of wind against our tent. It was dark and still snowing. 'Should be another couple of hours to dawn', I thought. 
At -15 degrees, we were now uneasy and fidgeting, desperately waiting for the first signs of the sun. Rahul, on his first ever trek, was clearly not at ease, when he asked for the time. I looked for my torch, which lit up my watch only to my dismay. The hour's hand was only hovering around 11. I was appalled. 
'2 am it is', I lied in fright.     
I knew it was going to be a very long night… 
Also read: The night when I slept in a cave
THE STORY BEFORE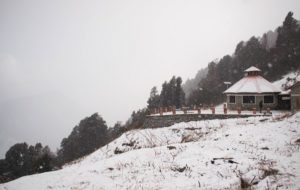 An upward hike led us to the KMVN guest house under 3 hours. Three young, amicable and enthusiastic photographers joined us which made the experience all the more amusing. The plan was to camp nearby due to access to the food and water at the restaurant. Khaliya top is less than an hour's trek from here.
FIRST SNOWFALL
Before we even had our first sip of tea, the clouds introduced themselves and the heavens opened up. Little white balls of cotton came flying down over the valley. I couldn't believe my eyes. I had waited a lifetime for this. The weather gods made sure that the reward was nothing less than miraculous. And it just kept on snowing for hours, turning the place into a white wonderland.
Our excitement and energy levels knew no bounds.  We performed our snow rituals, had some snacks and quickly pitched our tent. It was getting dark and a lot colder than I had expected.
Also read: Camping with the locals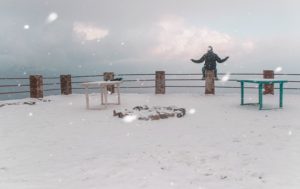 THE NEVER ENDING NIGHT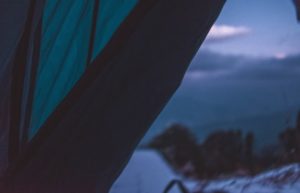 ...I sat back and tried to calm myself. Sleeping bags and all our woolen and jackets weren't enough for the enormous cold that the Earth emitted. I had spent quite a few nights(even alone) at sub-zero temperatures, but this was something else. The night didn't seem to end. A quarter turned into an hour.
I turned, twisted and changed postures every couple of minutes but slumber was nowhere to be found. I breathed deep and tried to talk Rahul through the night; comforting myself at the same time. Chatter from our neighbors was now distinct too. And for what could only be worse, it started snowing heavily again.  
I realized that this was only a trailer of the mega adventures I wanted in life. Maybe a sign. Nothing worth having comes easy.
The unbearably slow passage of time made me check all the trivial activities possible in a 6*4 feet tent. Little naps in between helped. By 5, we started prepping for the trek to the peak and were out of our tent to the harsh cold and quiet dark valley.
UNFORGETTABLE SUNRISE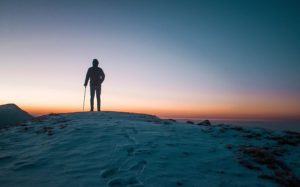 The track was slippery and dark. Head-torches and a little shine from the half-moon came to the rescue. An upward cautious trek was definitely better than shivering in our sleeping bags.
The horizon changed colors and I believe there is absolutely nothing prettier and awe-inspiring than this sight at dawn. Silence and expansive nothingness stood out. And then there were the 5 Panchachuli Peaks, the tallest of them, which looked at you right into your eyes. The Majestic and the Invincibles. The first rays of the sun hit the snow to pay their daily homage to the mighty.
Nature's artistry and romantic sublime; conditioned men of the cities will never know.   
Also read: Summit with 360 degrees view of the Himalayas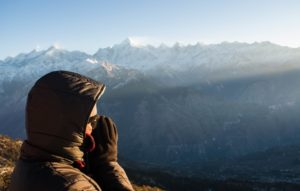 It is said that the best view comes after the hardest climb. In our case, it was after the longest night.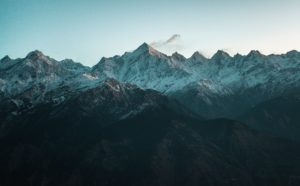 DETAILS
Height : 11,500 ft.
Where: The trek starts 8kms from Munsiyari. Ask anybody in the town. It is the most popular place there.
How to reach Munsiyari : Delhi >> Haldwani>> Munsiyari
*There are only one or two vehicles that make the long journey early morning from Haldwani. So plan accordingly.
How: Buses and shared jeeps run every day to the starting point to Khaliya Top trek.
Time: Around 4-5 hours to the top.
Camping and gear: There are a few shops at the Munsiyari bus stop which provides all kinds of camping gear at very reasonable prices. Tents, sleeping bags, sticks, etc.
Best Time: April-June and Oct-Dec for snow.
Read all my treks here – MY TREKS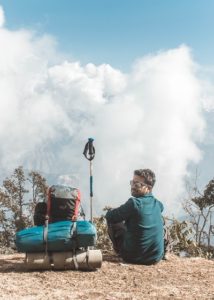 The whole point of our lives is meaningless if not lived with passion.
Stay Raw!
Connect with me on Instagram and Facebook. Happy to help and inspire!