Sikkim possesses raw beauty. It doesn't scream for attention. The state is on hilly terrain. In its season, rivers and waterfalls flow through the state. Water which is pristine, gushing directly from the snow-capped mountains, which are in themselves, a sight to behold.
I had planned at least 2 months in the state. And 63 days, I did stay.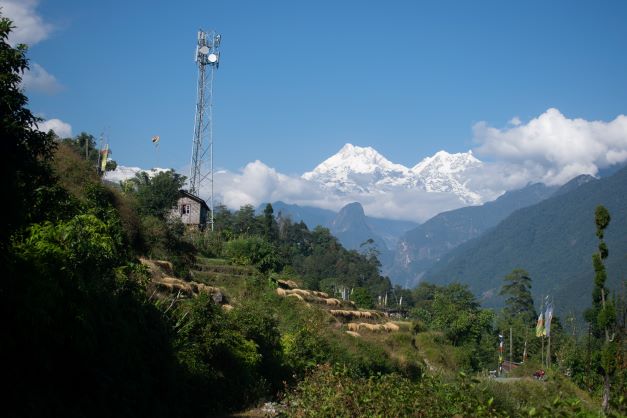 I kickstarted my journey trekking to Kanchenjunga base camp. Those were the best 8 days spent in the mountains. Spending time right in the lap of nature, what more does a soul needs.
And the rest of the journey has been pretty much similar; albeit physically tiring, to be honest.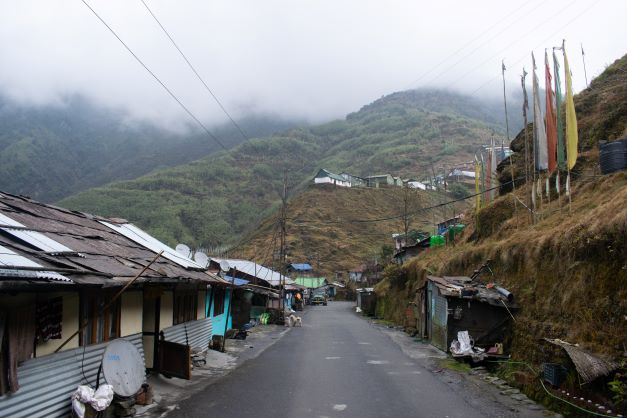 PEOPLE AND HOMESTAYS
Although Gangtok and Pelling are the most popular towns, there are a lot of villages to explore. And I hopped on from one village to another, experiencing the culture, norm and simple lifestyle. Sikkim boasts of a lot of homestays and I must have stayed in at least 15 of them.
And I was treated hospitably. More as an extended family member than as a guest. The people are simple and polite. A lot of families I stayed with, were concerned about my journey, especially an elderly couple in Zuluk that I fondly remember. And in a lot of these stays, we used to have our dinner discussions and have exchanged our personal stories as well without much botheration.
It was surprising. Or maybe not. Isn't that the way we ought to be? With the right kind of people, the words just flow unapologetically.
That is how the people are. And that is how beautiful their little cottages are. Even their tiniest home would have a garden with flowers that wouldn't bloom without care and attention. These are heart-warming homes; one that is always at the back of your mind like a dream that one hardly makes true.
MY DAY TO DAY ROUTINE
Now my everyday routine was to reach a place, find a homestay or a cheaper option if possible. Sikkim is expensive and budget-friendly options are hardly listed online. Some places do not even have internet.
I usually stayed in a homestay for at least a couple of days. The longest I have stayed was for a week in Yuksom. I would then be on foot on my own exploring nearby attractions including lakes, waterfalls, gardens, hilltops. But it was mostly monasteries. Every hilltop has one. And a hike to the top has been the most enjoyable part of my day to day routine. Colourful monasteries at the top, smiling and calm faces of monks and friendly dogs absorbed all my weariness until I felt drained out at the end of the day getting a good night's sleep.
I would usually return for lunch whenever possible to my homestay and then rest before walking around the village. And during these walks, I have made friends with locals and had from time to time let some of them guide me to farms and hidden wonders only they would know. Every day in that way was different from what I experienced.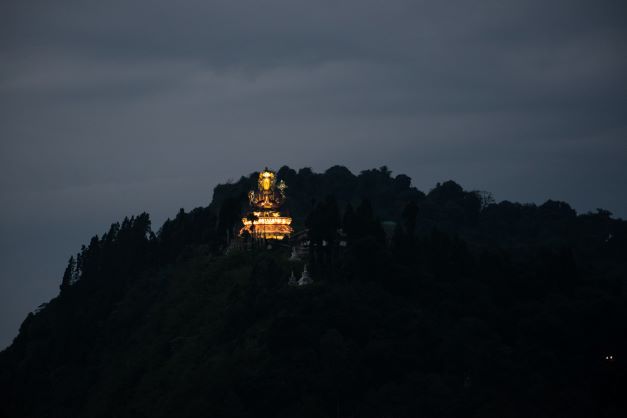 THINGS AS THEY HAPPENED
The experiences have been unique and most of them have been unplanned. I spent half a day playing carrom with the locals in Rinchenpong and walked around the cardamom fields in Chayatal with a local friend. I sat by the fireside for hours in Thangu valley and comforted a kitten when temperatures dropped to -7 degrees and watched a local football match at Namchi which turned out to be quite entertaining. And there have been numerous incidents. Most of them were random.
One incident that I fondly recall is from Uttarey, a village in West Sikkim where I had been camping on my own. It had been raining and I had grown weary of having rice for a few days. It was then that I made friends with Mukesh, a local young guy. We searched for rotis in the whole town that evening without any sign of luck. It was then that he invited me to his home and urged his sister to prepare rotis for me. I had tea and dinner at his house.
Rotis were prepared after about a year or so under that roof!
By the end of 2nd month, I grew tired. Of the food and of the routine. Biking; which had been incredibly tough in some patches where there were no roads at all, finding a place under budget and loading-unloading the huge bags every few days had by then become a task. And since food and stay were pretty expensive, I thought it was better to explore than stay at a place for a longer duration even if that was what I'd have preferred to. And I knew that the time had come. I had by then, explored enough than I could imagine.
Physically it was draining, but Sikkim was now my home. I could return back whenever I wanted. To rice, dal and potatoes. To the smiling faces of the natives. And to the concerned elderly and families; to tell them that I have been doing fine. Have received more than I could have ever asked for.
More from Sikkim:
Love to live with yourself. Offbeat locations in Sikkim!