How about nothing?
Sometimes it's perfectly okay, and absolutely necessary to shut down, kick back and do nothing.
What is important is to take out time for oneself. Do nothing. Believe me. Doing nothing is very important. You will then surely know exactly what you need to do.
With no Mall road, branded stores or loud city crowd flocking over the weekend, this is the perfect place for life's complicacy to take a back seat and unwind.
What I did!
1. Biking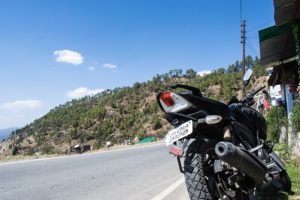 Hired a bike in Binsar and it was just me, the bike and the mountains for 3 days.
Nothing can be comparable to the adventure with the combination above and I enjoyed every bit of my time on the roads. It felt ecstatic.
Now, how do I convince you all to ride? There is but no thrill in a comfy 4 wheeler. Apprehension and security have killed adventure.
A lot of people tell me that riding a motorbike isn't safe and they would never do it. Well then, staying at home should be the safest (unless there is an earthquake.)
Now that I am writing about biking, it also makes me want to bring up the fact that there are very few females in India who ride, the reason of which I am uncertain. Orthodox Indian parenting, inhibition, prejudice; whatever be it, let it not stop you to feel this sensation.
2. Read
Finished off a book after ages. It feels like an accomplishment, especially when you have completed reading those pending pages of that half-read book that you bought long back.
It was a travel book. 🙂
(Can't really think of anything else; day in, day out.)
3. Temple Tour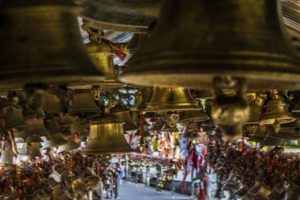 If you ask any local for places of interest in the district of Almora, the only reply you are gonna get is 'Temples".From avatar of gods never even heard of before, the hills here boasts of numerous temples; Pushkar of the hills.
Though I had no particular interest in visiting most, there are a few which should not be missed. Kasar Devi, Chitai Golu Devta (The Temple of Bells – in the picture) and Katarmal Sun temple are worth visiting.
4. Binsar Wildlife Sanctuary

No, there ain't any wildlife here except monkeys and peacocks. Monkeys are everywhere (pun intended).
17 km from Kasar Devi(main Binsar town) is this forest sans wild animals. A further 9kms ride from the gate took me to the trail to Zero point which is a 2km hike in the jungle. The background score of birds chirping at dawn was perfect music to my twilight ride.
The sunrise here is not to be missed with 180 degrees view of snow-capped Garhwal Himalayas glowing in the star's first rays.
Also read: On the road to Lansdowne
5. Kausani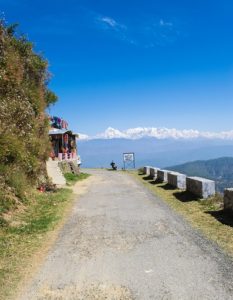 2 hours from Binsar is this gorgeous, must visit, secluded town of Kausani. It provides panoramic views of spectacular Himalayan peaks which include Trishul and Nanda Devi.
Places to visit include Kausani tea estate, Rudradhari waterfall, Anashakti ashram and Baijnath temple.
I was mostly in awe of the scenic beauty along the 58kms ride. The roads ran along the Kosi river to quiet hills filled with colourful flower blooming trees of late March. Eventually, it showed up the grand, splendid mountains!
Spring – Signifying rebirth and resurrection. These are the months to travel. To feel the air changing, new leaves and flowers blooming.
6. Meeting folks
Met a lot of travellers from the UK, France and Israel and had some great conversations about travelling, books and life in general.
Also had the opportunity to talk to a lot of locals and villagers while giving them a ride. Though not in length, it was but pleasing and heartwarming to hear from them; their uncomplicated lives and happy simple routine.
7. Sunsets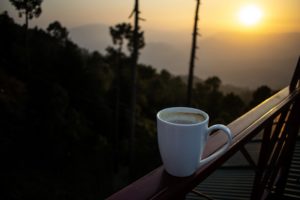 These were days where I just sat for hours in small cafes in awe of the disintegrating rays of the yellow star.
To do nothing and enjoy the simple yet unique and un-thanked for pleasures in life was what I needed. It is what we all need.
I felt grateful for everything.
Also read: Biking solo to Sariska and Bhangarh
8. Home-stay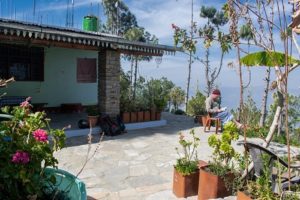 There are a lot of beautiful home-stays apart from some lodges and a few hotels.
The setting of my room was picturesque. Overlooking the valley with little gardens around, there was plenty of fresh air and silence to detoxify city's garbage.
Adjacent to my room, this man from the UK(in the picture) had hired a room for a month to live a life away from the hustle bustle of cities. For some, it becomes a necessity.
Other details :
How to reach?
Delhi- Haldwani – Kasar Devi
Buses to Haldwani ply from Anand Vihar ISBT. Shared jeeps/cars are available from Haldwani. Kasar Devi is 3 hours from here.
*Biking – I am aware of the risks of riding in the mountains. I take my time. Never in a hurry.
Stay?
As mentioned above; home-stays at Kasar Devi. No prior booking required. There aren't too many tourists.
Best Time to visit?
Round the year. Winters are snowy and quite cold.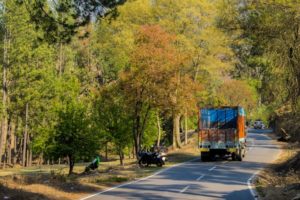 A scene from the roads to Kausani!
Travel RAW!
Life is short. Just leave!!
Also Read: Weekend treks for beginners!