If you only travel to places everyone else does, you will only have experiences similar to everyone else.
After 2 hours on the powerful Himalayan wheels, under the scorching heat of the fiery sun in the hills, a year-long or rather about 300-day long wait and anticipation but sans expectation turned out to be a dramatic and much-cherished affair.
Two things became clearer to me that day:
To travel without expectations.
Global warming is taking its toll.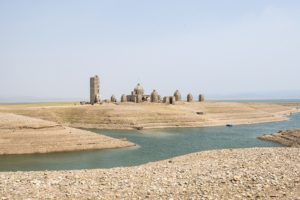 'Bathu ki Ladi' is a cluster of temples that remain under water for 10 months and are only accessible during the months of May and June when the water level decreases. Built centuries ago, it is a wonder that the temples still stand upright after remaining under water for more than 40 years.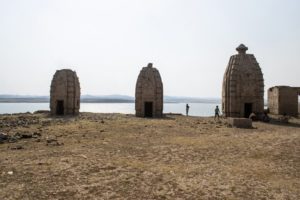 I had to wait quite long for this. June end means a 10-month long wait to get a chance to see this hidden gem. I had come across it somewhere on the web and it caught my attention straight away.
It seemed one of a kind.
It was a 2-hour adventurous ride on a motorbike hired from Dharamshala through hills, villages and the dry banks of the reservoir. The unbearable heat invited severe migraine but the unknown and exciting was yet in store.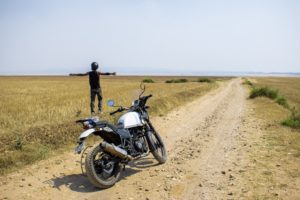 I was ecstatic. Overjoyed as a baby, when handed stuffed toys.
This means everything to me.
The sight of vast grasslands brought joy like no huge concrete stuff ever did.  Patience and adventure were rewarded. Refreshingly blue water body and contrasting grasslands opened up to the furthest our eyes could go.
And there stood those temples; out of nowhere. Pure magic.
The place gave vibes of Ladakh's Pangong lake(except that it was almost deserted- the best part) and was a sight to behold. The setting was unimaginable; the feeling indescribable.
Read: Biking solo to Bhangarh and Sariska
What and Where?

Submerged in Maharana Pratap Sagar(a reservoir created by Pong dam in the early 1970s), Bathu ki Ladi is a centuries' old cluster of temples in Kangra district. They are believed to be built by the Pandavas while some think it was constructed by a local king. The fact though remains unknown.
How to reach?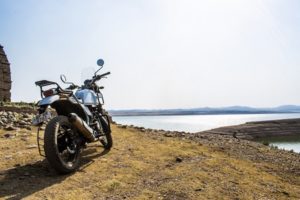 The temples can be reached via two routes:
Dharamshala-Kangra to Jawali(About 60 km).  Jawali is a small village from where the rough road stretching around 10kms to the temples begin. We hired motorcycles from Dharamshala and followed this route.
The second would be to via Dhameta, a small town in Kangra. A further 3 km from here would take you to the reservoir from where you can reach the temples via boat ride.
Overnight buses run every day from Delhi to Dharamshala.
When?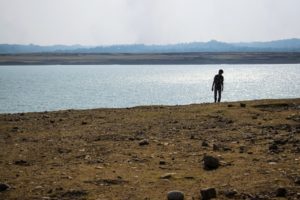 Though visible March onwards, the best time to visit would be in the months of May and June.
*Beware of the blazing sun.
Go to places less travelled to. Explore. Set out on an adventure.
Life is short.
Also read: On the way to Lansdowne
More scenes from Bathu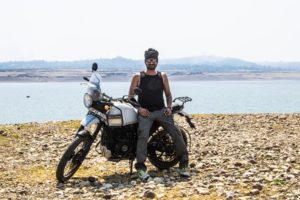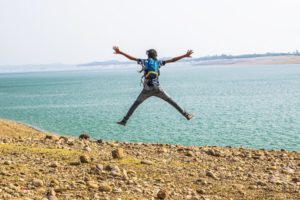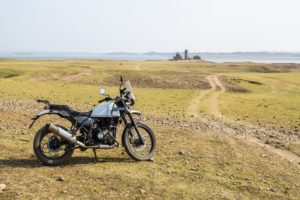 What you can do nearby..
Explore Dharamshala and Mcleodganj.
Stay at hostels in Dharamkot.
Do the trek to 'Kareri lake'.
Paragliding at Bir-Billing– 2 hours from Dharamshala.
Explore the lesser-known Naddi – 15 mins from Mcleodganj.
Open to all queries/questions. Type in.
TRAVEL RAW 🙂
Other BIKE TRIPS
Follow MY TREKS