Now I am a firm upholder of 'eating and staying healthy' but a few happy days of mouth watering, butter dripping, fat filled food did harm to nobody. 😛
One can't do nothing when gluttony takes over.
Amritsari Kulcha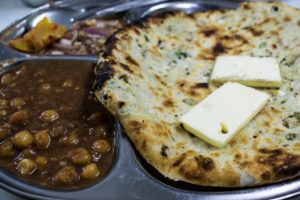 My first hand at the 'Kulcha' was at the Bhai Kulwant Singh Amritsar famous kulcha & nan. And boy, it was every bit to my imagination and more. Overeating became routine in the coming days. From Kulcha Land, Bhravan ka Dhaba (kulcha here is overrated, it is best known for dal), Punjabi Kulcha Land; I tried it all.
It is said that a good kulcha should be crispy on the outside and soft and flavorful from the inside.  All India Famous Amritsari Kulcha had it all and was my best experience, hands down!
Breakfast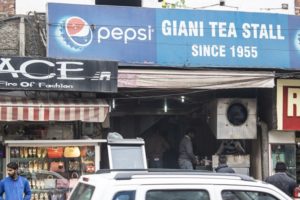 There is something about really old food joints and it's rusty feel that draws people.
A glass of tea clubbed with kachori, toast and omelette was the perfect start to my day. This is the ideal place for breakfast.  Giani Tea Stall must definitely be on your list if you are planning to visit Amritsar. After a hearty meal, I walked 2kms for the best jalebi in town and it did not disappoint me. Gurdas Ram Jalebi Wala, best known for it's jalebis and gulab jamuns, is a must for sweet tooth.
My stop for next day's breakfast was Kanha Sweets. I had heard and read a lot about it's aloo-poori and pinni but honestly I found it a tad overrated. You can go for it nonetheless.
Aloo-tikki on the streetside is as good as anywhere. Pure bliss!
A Full Meal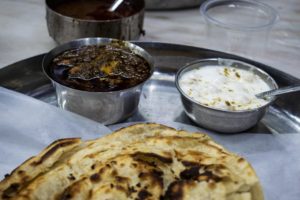 Now this is not all. The food capital of Punjab has a lot more in store. For a totally lip smacking and satisfying experience of north Indian cuisine, absolutely nothing can beat the century old Kesar da Dhaba. Known for palak paneer, dal fry and raita along with laccha paratha, this was one of my best meals ever.
Dal makhani and paneer can be tried at Bhravan da Dhaba or Brothers Dhaba. Both are adjacent to each other and equally good.
And then you have lassi too (Ahuja Sweets) to gulp it all down. Give a try to the kesar one too. It was over by the time I reached. Even missed the kulfa. Hopefully next time around.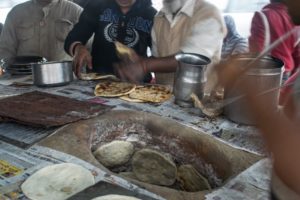 Explore AMRITSAR.
Tell me about your best food experience here. Leave a comment. 🙂