Another one of my solo treks.
And with every trek, I am only realizing how much I love my company, the need to spend more time with myself, undertake more challenging treks, get fitter, inspire, experience the new and fill the unforgiving minute with sixty seconds' worth of distance run.
A trip to Manali is incomplete if you haven't trekked to Bhrigu lake. And the sad part is that most people don't.
About the trek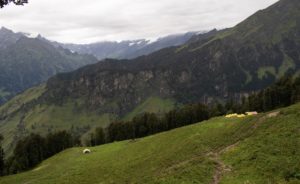 If you are not taking a guide along, it is important that you take the right trail. It can be via Kothi or 22nd mod(turn) after Gulaba as some blogs or websites refer.
But the best and the most trod one is the 14th mod after the Gulaba check point.  The 6km trail would take you to one of the most beautiful campsites in a charming meadow within 3-4 hours. Now identifying the starting point of the trail near the 14th mod may not be the easiest thing (it should be under 100 metres from the hair-pin bend).
I waited until I met a shepherd who directed me. Shepherds remind me of Santiago. I must have read it a dozen times. Still remains one of my favorites. Quoting from The Alchemist:
It's the possibility of having a dream come true that makes life interesting.
And mine is only to travel to unknown territories.
Read: All my treks here !
Of Camping and Trekking
These beautiful camps in yellow(in the picture above) at Rola Kholi belong to one of the popular trekking communities in India. No I do not trek with them nor do I have any intention to. These communities provide proper guidance, delicious food at 15,000ft and all sorts of facilities and back up.
That has never been my idea of trekking. I love uncertainty, the anxiety, fear and the rush that comes along while climbing mysterious mountains and taking up unfamiliar trails. Too much comfort beats the whole idea of hiking. Also I do not have a lot of people to talk to, which is a bonus. Conversing with nature and oneself gets easy.
FYI: I spent 1,200 bucks(Manali to Manali) for an otherwise 10k one. That includes overeating and my raw adventure.
For beginners :  Weekend treks near Delhi !
My stay and experiences
I reached the campsite only to find out there were no tents on hire (another adventure I thought). The only shop providing food and camping facilities had their tents all eaten up by the grazing cattle along with grass.
I took off my shoes, talked to the owner and headed straight into the shop with my backpack and lay down without asking too many questions. I knew this was going to be my home.
An Uncle and nephew run the shed, which remains open from May to around mid September depending on the weather.
Little did I know that my short stay(2 full days) here would turn into one of my most cherished experiences. Since it was raining incessantly, I spent most of my time inside – binge eating, drinking all kinds of tea and sharing experiences with the congenial duo.
The elder one was funnier than usual, cracking jokes and taking a dig at every known human being(not even sparing myself). I laughed even if I didn't fathom all of it. With the usual bidi in his mouth, he would narrate unusual stories of that part of the mountains, mostly in his local pahadi language and accent.
The rains wouldn't stop and and the night got colder. I was offered lugdi, the local alcohol made of rice. And though I don't feel the need to intake intoxicating drinks or substances, I couldn't refuse on this. It was strong and stirring. After much insistence, I gulped down 2 glasses and pretended to feel sleepy. 😛
Read: Another trek, another adventure. My stay in a cave !
Bhrigu Lake
Take detailed instructions from locals at the campsite or risk it on your own on a trail that is not clearly defined. I was on the verge of getting nowhere until I found a trekking group and hiked with them.
It takes around 3 hours to reach the lake, which is tucked high up in the mountains at 14,000 ft. Covered in fog, the green lake hid quietly, ascertaining whose presence is difficult otherwise.  Although small, it's presence is mysterious and captivating at the height it is.
It's water level has been decreasing, people say. Give that to global warming.
*Have to say that the trek and the campsite are equally dreamy. This should be a must do for everybody.
Details:

Height: 14,100 feet.
Length: 11 kms to the lake. 6 hours.
Best time: Monsoons(June- Sep). Yes this is a monsoon trek.  You would find snow in other months. Needless to say, the trek would get difficult too.
Stay: Advisable to carry your own or risk it like myself. In the latter case, you should be ready for whatever comes your way. The only shop there remains open from May to around mid September.
How to reach: As mentioned above, take the trail from 14th mod after Gulaba checkpoint.
Read: The best monsoon trek in India !
More from the trek..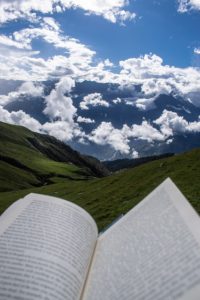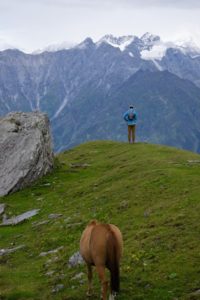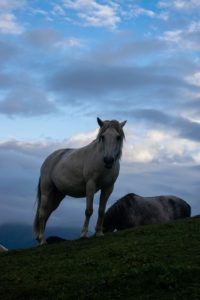 If we admit that human life can be ruled by reason, then all possibility of life is destroyed.
Take risks. Challenge the status quo. Question yourself.
Stay raw! 🙂