There are two ways of looking at things.
Either you try to see behind walls; have admiration for smallest of things, embrace the new and feel and experience the vibe around you or else you are indifferent and can interpret most things as obvious with hardly any element that surprises you.
If you fall in the former category (try to, if you do not), Pushkar mela is totally going to mesmerize you. Held every year for around 10 days in the month of October/November, this is the largest camel fair in the world.
A living for locals, this is a photographer's dream, a visual delight and a must for anyone with the heart of a traveller.
During my visit to the Pushkar Mela, I was totally captivated by what this town and the grand festival had to offer.  Why you must visit the Pushkar Mela !
1. Camel Fair/Mela – The largest in the world
The centuries-old practice of trading livestock, especially camels is still followed with enthusiasm and vigour. The whole desert is filled with people in small camps cooking, looking after their camels, engrossed in their serious-looking conversations, taking a biddi puff and making a living.
It is a delight to be a part of such a fair with amazing scenes all around.   
2. Street Food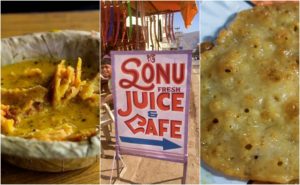 The delicacies of authentic street food in Pushkar will leave you craving for more. Pay a visit to the small street stalls or any of the sweet shops (recommend Sarvadia Sweets) and you would almost be risking your appetite.
The fusion of juices and shakes at Sonu Juice Center (there should be at least a dozen of them by the same name) will be something you may have never tried before. And kachori-kadi!
3. Pushkar Lake
Pushkar town is spread around it's main attraction – the holy Pushkar lake. The whole area around the lake is divided into ghats where pilgrims and believers come to take a dip in the holy water. Most of the ghats are some centuries-old while some are newly constructed too. Brahma ghat(near the only Brahma temple) is though considered to be the oldest and is usually the most crowded.
Even if you are not religious, the in-numerous temples and the setting of the lake and the town around it is pleasing to the eye.
4. Bazaar
Though I didn't buy myself anything, the bazaar is one of the main attractions of Pushkar. It is a great stop to buy some eye-catching souvenirs of Rajasthan. From traditional handicrafts, leather products, jewellery, etc, there is a lot to buy and window-shop.
5. Cafes
It is here that all my planned budgets for the trip went down the drain. From Little Buddha Cafe to Pink Floyd, Lakeview, Out of the Blue and Doctor Alone, I just wouldn't stop. The town is filled with cafes serving Italian, Mexican, Israeli and other cuisines.
The food is decent and the extraordinary view makes it even better.
6. Adventure activities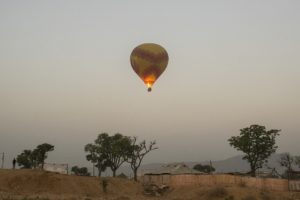 A trip on the Hot Air Balloon is the best thing to do if you want an aerial view of the picturesque town's mela. Though hard on the pockets, this is surely worth an experience. Or you can run around capturing pictures of it like me. 🙂
There are other adventure activities including quad biking, rappelling, jeep safari, etc too.
** Fusion Bands
/Camping/ Bizarre
 Competitions are a few other things that can make your visit a great, one of a kind experience. 
Come September end, you can start planning for it.
Or go for it straight away when it occurs. Better?
When?
October/November. Dates vary according to Hindu Calendar.
How to reach?
Daily buses from Delhi/Gurgaon. Take an overnight one.
Stay?
Fancy resorts.
For travellers like me – Anywhere. Doesn't matter much. Lots of budget hotels and guest houses. 🙂
You should check online too. The rush during the festival causes the price to surge.
Recommended
Explore the town on foot.
Take the stairs to Savitri Mandir.